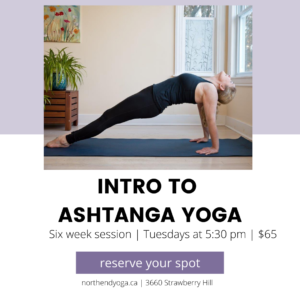 I hope you had a great summer! It is always sad to see the hot summer days fade away but September is a great time to get back on the mat for yoga.
If you are interested in learning Ashtanga Yoga, or just want a refresher, I am holding an Intro to Ashtanga class on Tuesdays at 5:30 pm (six week session). I also hold Mysore classes on Tuesday and Thursday mornings at 8 am. And I have an in-person and online Led class on Wednesdays at 5:30 pm. Lately, we have been doing either the full primary series or intermediate series in this class, keeping it traditional. Class pass is 5 classes for $55 or 10 classes for $100.
Want to try a full Ashtanga Primary Series class? This Sunday at 10 am I am holding Full Led Primary Series with Pranayama and chanting (by donation or use your class pass) at 3660 Strawberry Hill Street. I can Zoom this too. All levels welcome!
Please let me know if you are joining online so that I can get my gear set up. Click for Zoom link!
Yoga at Hammonds Plains Community Centre (HPCC) will resume on Monday, September 27th. I am trying a couple of new times too. This is what I am offering at HPCC:
Vinyasa Flow – Monday at 6:15 pm
Restorative Yoga – Monday at 7:30 pm
Vinyasa for All – Wednesday at 7:30 pm
Beginner Yoga – Sunday at 7:30 pm
These classes will run in six-week sessions for $75.
Email me to register 🙂
(Note at least five participants are needed to run the classes at HPCC.)